Recommended Topics for you
Worksheet
Worksheet
Worksheet
All, Some, No - Quadrilaterals
Worksheet
classifying quadrilaterals
Worksheet
Worksheet
Triangles and Quadrilaterals
Worksheet
Worksheet
Quadrilateral Vs. Triangle
Worksheet
Triangles & Quadrilaterals ...
Worksheet
Worksheet
Countdown (Series 8 Page 5)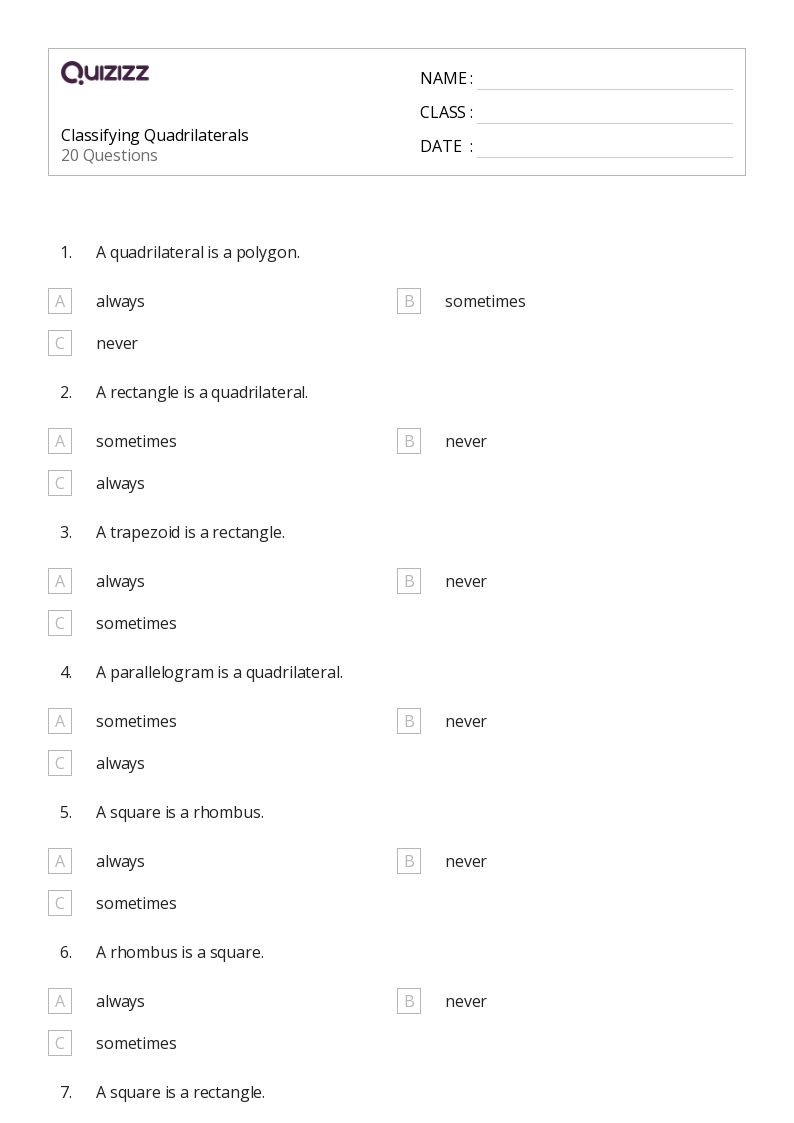 Worksheet
Classifying Quadrilaterals
Worksheet
Worksheet
Area of Quadrilaterals and ...
Worksheet
Worksheet
Worksheet
Area of Quadrilaterals and ...
Worksheet
6.13 Interior angles of a Q...
Worksheet
Worksheet
Worksheet
2nd Grade Math Lesson 28 - ...
Worksheet
Worksheet
Geometry: Quadrilaterals an...
Worksheet
Cross Sections - Other Shapes
Explore worksheets by grade
Explore printable Quadrilaterals worksheets
Quadrilaterals worksheets are an essential resource for teachers looking to enhance their students' understanding of Math and Geometry concepts, specifically focusing on 2D shapes. These worksheets provide a variety of engaging activities and exercises that help students explore the properties of quadrilaterals, such as parallelograms, rectangles, squares, and trapezoids. By incorporating these worksheets into their lesson plans, teachers can ensure that students are able to grasp the fundamental concepts of Geometry while also developing their problem-solving and critical thinking skills. Additionally, these worksheets can be easily adapted to suit the needs of students across different grade levels, making them a versatile and valuable tool for any classroom.
Quizizz is an innovative platform that offers a wide range of educational resources, including Quadrilaterals worksheets, to make learning Math and Geometry more interactive and enjoyable for students. Teachers can utilize Quizizz to create engaging quizzes and games that test students' knowledge of 2D shapes and other Geometry concepts, while also tracking their progress and providing instant feedback. This not only helps to reinforce the material covered in the worksheets but also encourages students to take an active role in their learning. Furthermore, Quizizz offers a vast library of pre-made quizzes and resources, catering to various grade levels and subject areas, making it an invaluable tool for teachers looking to diversify their teaching methods and enhance their students' learning experience.