Recommended Topics for you
Worksheet
Right Triangle Trigonometry
Worksheet
Ferris Wheel Trigonometry
Worksheet
Values and Trigonometric Id...
Worksheet
Worksheet
Geometry Test Law of Sines
Worksheet
Law of Sines (no calculations)
Worksheet
Worksheet
Trigonometry - Angle Basics
Worksheet
Matching Graphs with Sine a...
Worksheet
Worksheet
Trigonometric Functions:Fin...
Worksheet
Worksheet
Worksheet
Worksheet
Area with Trigonometry & Ve...
Worksheet
Worksheet
Evaluating Functions from G...
Worksheet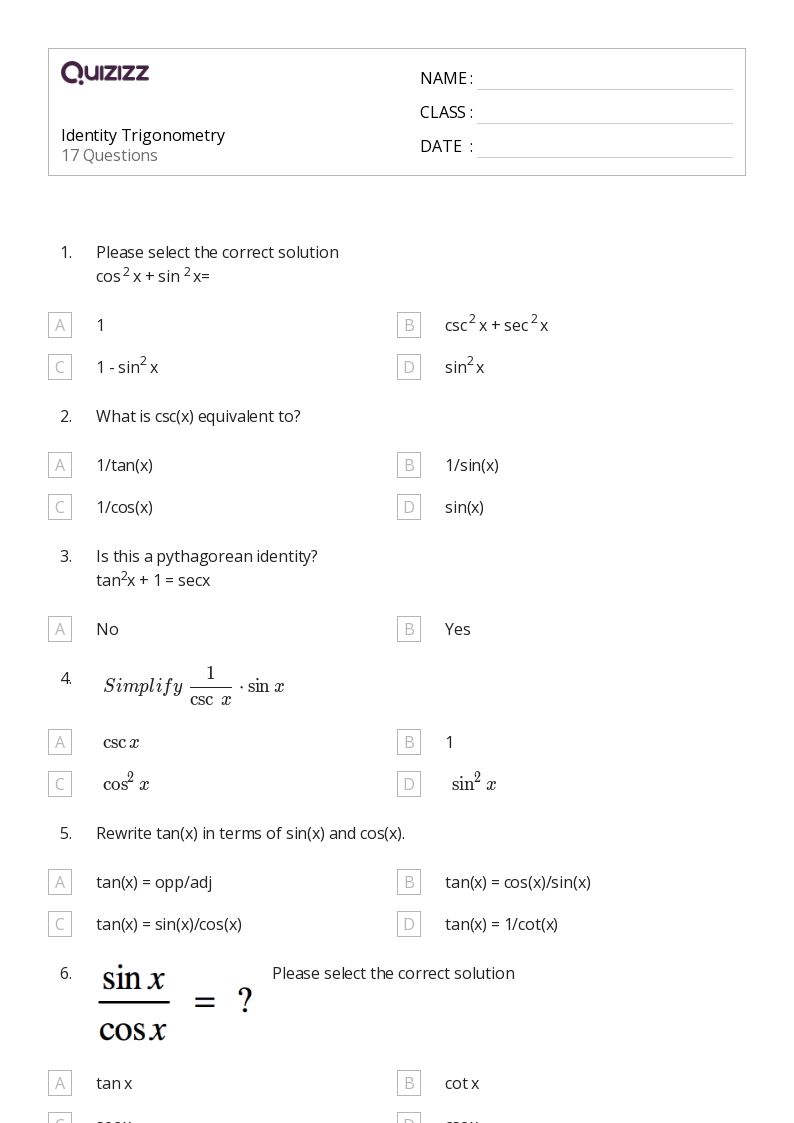 Worksheet
Worksheet
Worksheet
Worksheet
Worksheet
radians and degrees- 30 and...
Worksheet
Pythagorean Theorem or Trig...
Explore worksheets by grade
Explore printable Trigonometry worksheets
Trigonometry worksheets are an essential tool for teachers looking to help their students master the fundamental concepts of math, specifically in the realm of angles and triangles. These worksheets provide a structured and organized approach to learning, allowing students to practice and develop their skills in solving trigonometric problems. With a wide variety of topics covered, such as sine, cosine, tangent, and their applications in real-world scenarios, teachers can easily find the perfect set of worksheets to cater to their students' needs. By incorporating these trigonometry worksheets into their lesson plans, educators can ensure that their students have a solid foundation in math and are well-prepared for more advanced courses.
Quizizz offers a comprehensive platform for teachers to not only access high-quality trigonometry worksheets but also to create engaging quizzes and interactive lessons for their students. This all-in-one solution allows educators to seamlessly integrate various aspects of math learning, from practicing with worksheets to assessing students' progress through quizzes. With Quizizz, teachers can easily track their students' performance and identify areas that may require additional support or attention. Furthermore, the platform offers a vast library of resources, including pre-made quizzes, lessons, and worksheets, catering to different grade levels and math topics. By utilizing Quizizz in their classrooms, teachers can provide a well-rounded and effective learning experience for their students, ensuring that they excel in the world of math.