Recommended Topics for you
Worksheet
Worksheet
Cell Division Review Quiz
Worksheet
Cell Communication, Feedbac...
Worksheet
Worksheet
The Daily Warm-Up: Cell Com...
Worksheet
Worksheet
cell cycle and cell division
Worksheet
Unit 5: Mitosis Vocabulary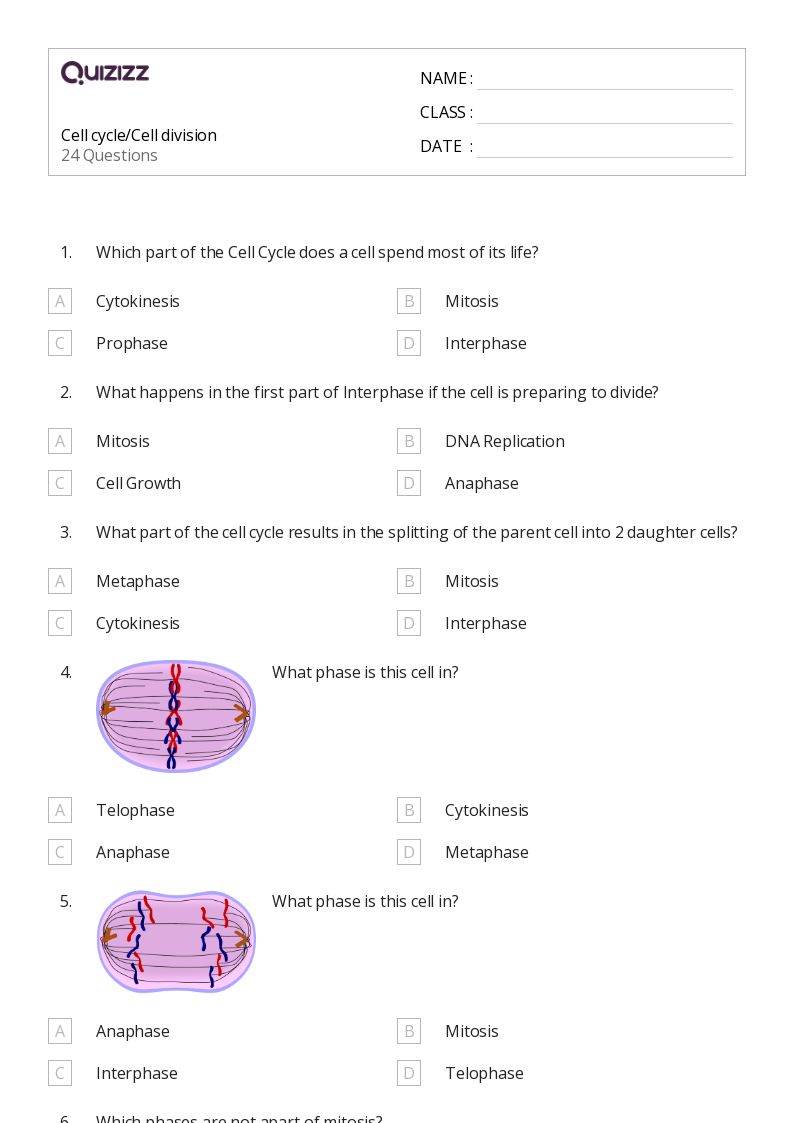 Worksheet
Worksheet
Bio Unit 2 test (DNA replic...
Worksheet
Cell Cycle and Cell Divisio...
Worksheet
Unit 6 Cell Division Vocab
Worksheet
Worksheet
Worksheet
Cell Division and Mitosis
Worksheet
AP Chapter 2 - Cell Division
Worksheet
Worksheet
Worksheet
Module 3 RAnatomy Ch. 3 The...
Worksheet
Worksheet
Worksheet
Worksheet
Worksheet
1.6 Cell Division Practice ...
Explore worksheets by grade
Explore printable cell division worksheets
Cell division worksheets are an essential tool for teachers looking to engage their students in the fascinating world of Science and Biology. These educational resources provide a comprehensive understanding of the processes involved in cell division, such as mitosis and meiosis, and their importance in the growth and reproduction of living organisms. By incorporating cell division worksheets into their lesson plans, teachers can effectively illustrate complex concepts using visually appealing diagrams, interactive activities, and thought-provoking questions. Furthermore, these worksheets cater to various grade levels, ensuring that the content is suitable and challenging for each student. In addition to being a valuable teaching aid, cell division worksheets also serve as an excellent assessment tool, allowing educators to gauge their students' progress and comprehension of the subject matter.
Quizizz is an innovative platform that offers a wide range of educational resources, including cell division worksheets, to help teachers create engaging and interactive learning experiences for their students. With Quizizz, educators can access a vast library of Science and Biology-related quizzes, games, and activities that are designed to supplement traditional teaching methods and promote a deeper understanding of the subject matter. Teachers can easily customize these resources to suit the specific needs and grade levels of their students, ensuring that the content remains relevant and challenging. In addition to cell division worksheets, Quizizz also offers a variety of other Science and Biology resources, such as genetics, ecology, and evolution, providing teachers with a comprehensive suite of tools to enhance their students' learning experience. With its user-friendly interface and extensive collection of educational materials, Quizizz is a valuable resource for teachers looking to elevate their Science and Biology lessons.