Recommended Topics for you
Worksheet
Properties of Acids and Bases
Worksheet
Acids and Bases Unit Review
Worksheet
Acids and Bases Test Review
Worksheet
Worksheet
Acids and Bases & Calculations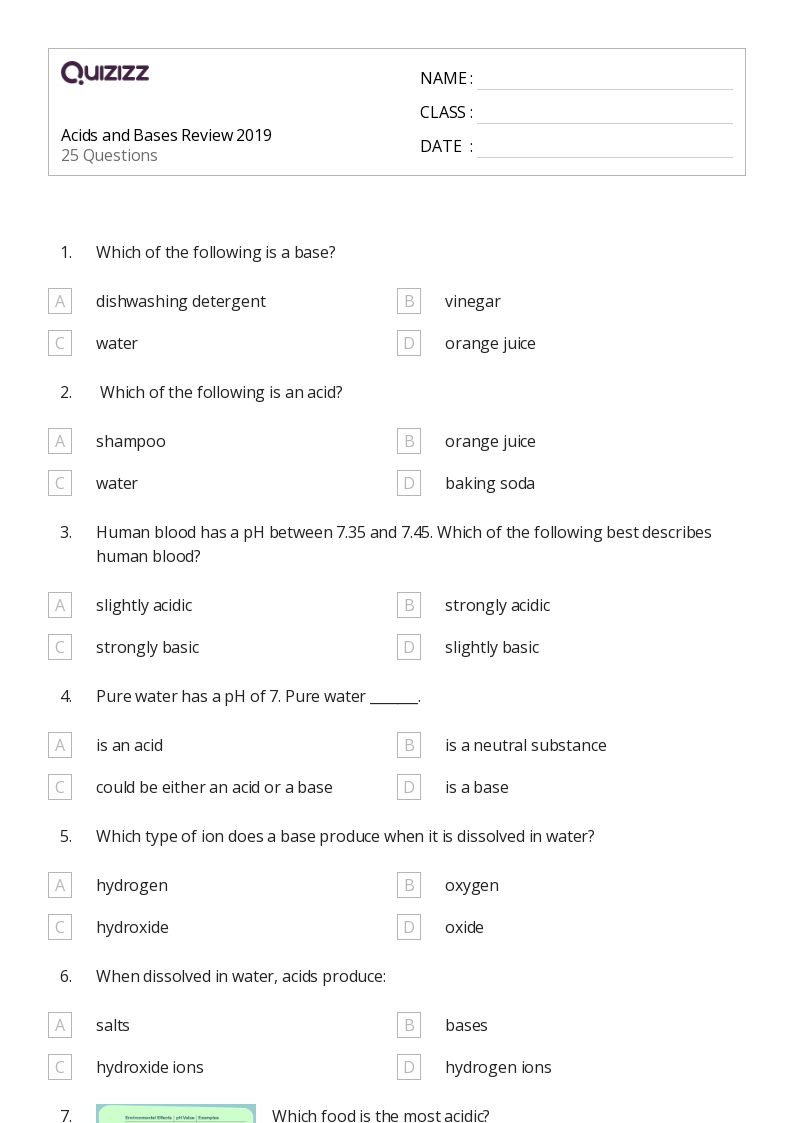 Worksheet
Acids and Bases Review 2019
Worksheet
Worksheet
Acids and Bases: pH scale
Worksheet
Worksheet
pH and pOH of WEAK Acids an...
Worksheet
Worksheet
Worksheet
Worksheet
Worksheet
Worksheet
Worksheet
Worksheet
U8 Acids and Bases - Zeph
Worksheet
Solutions, Acids, and Bases...
Worksheet
The Chemistry of Acids and ...
Worksheet
Worksheet
Acids and Bases names and f...
Worksheet
Worksheet
Acids and Bases Pre-Lab Check
Explore worksheets by grade
Explore printable Acids and Bases worksheets
Acids and Bases worksheets are an essential tool for teachers looking to engage their students in the exciting world of Science. These worksheets provide a comprehensive and interactive way for students to learn about the properties, reactions, and applications of acids and bases. With a variety of activities, such as labeling diagrams, solving problems, and conducting experiments, these worksheets cater to different learning styles and ensure a thorough understanding of the topic. Furthermore, these resources are designed to align with the curriculum and grade-specific standards, making it easy for teachers to integrate them into their lesson plans. By utilizing Acids and Bases worksheets, teachers can create a stimulating and effective learning environment that fosters a deep appreciation for Science.
Quizizz is a fantastic platform that offers a wide range of educational resources, including Acids and Bases worksheets, to support teachers in their quest to inspire young minds. With Quizizz, teachers can access a vast library of Science-related quizzes, games, and interactive activities that cater to various grade levels and learning objectives. This platform also allows teachers to track student progress, identify areas for improvement, and provide personalized feedback, ensuring that each student receives the support they need to succeed. In addition to Acids and Bases worksheets, Quizizz offers resources for other Science topics, such as biology, chemistry, and physics, making it a one-stop-shop for all your educational needs. Embrace the power of Quizizz and transform your classroom into a dynamic and engaging learning space where students can thrive in their pursuit of scientific knowledge.